Advertising signs
Advertising signs are like a company's business cards. We manufacture various types of advertising signs with the highest precision. Whether for your doctor's practice, for your retail business or as a large sign on your construction site. We produce your new advertising sign quickly and with perfect quality. After fast production, we of course also offer you a smooth assembly. Find out more about our wide range of advertising signs.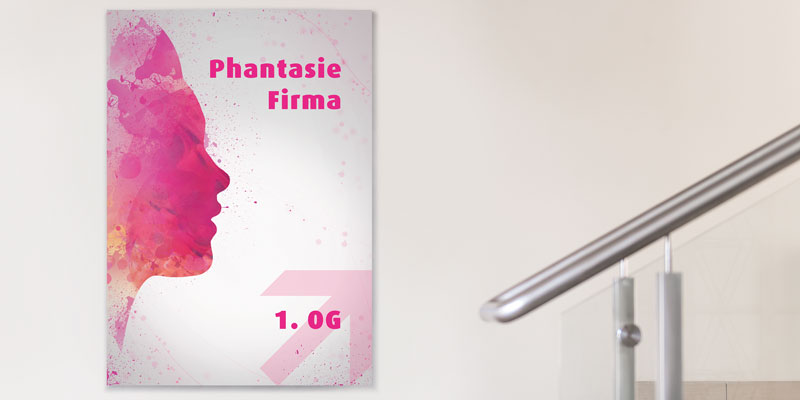 These signs are the calling cards of every company. They describe who you are, what you do or how you can be reached. Convince your customers before you greet them! Recommended material: Alu-Dibond, acrylic glass.
Greet your patients, clients and customers with a practice sign. With stainless steel screws or invisible brackets, your sign gains importance and guides your visit to the right place. Recommended material: Alu-Dibond, acrylic glass.
The noble way to present yourself in the form of wayfinding systems, name tags or company signs. Here, shadow effects with double-sided stickers are possible. Recommended material: acrylic glass.
As the name suggests, signs are used to indicate a location. Be it directional arrows, mandatory or prohibitive signs or the like. They are often part of complex signage systems. Recommended material: Forex, Alu-Dibond.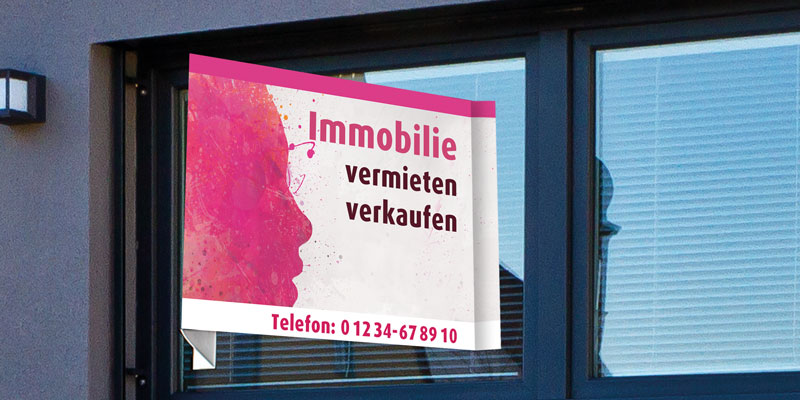 Attracting attention is very easy with this type of real estate sign as it points in the direction of vision. In the truest sense of the word "outstanding" advertising that is perceived as an eye catcher. Recommended material: hollow chamber.
Communicate what is being built. Make your property present during the construction phase and sell it more effectively. Construction signs or plans are important for active marketing. Recommended material: Forex, Alu-Dibond.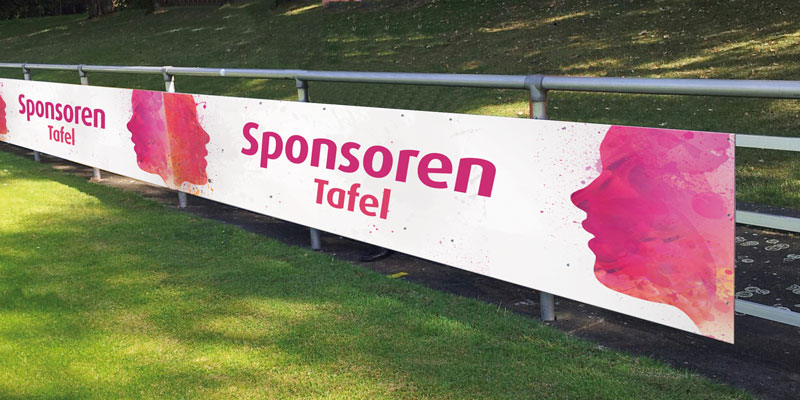 Reach hundreds of fans at once with perimeter advertising. At the same time you support your local association. In this way you help your club and your company at the same time – an image improvement that pays off. Recommended material: Alu-Dibond.
The classic way to draw attention to your property. An Aludibond sign attached to a wooden or aluminum post with a hook. Your advertising swings back and forth due to the wind. Recommended material: Forex, Alu-Dibond.

Certainly not all possibilities are listed here. If you want something different or special,
don't hesitate to contact us
. We love challenges and are guaranteed to find an adequate solution.